The Top Honda Dealer Near Orlando is Only 20 Minutes Away!
Many folks think of sunny weather, spring break, and family trips to Disney World when they hear "Orlando," but as part of your community we know that's not what your everyday life is. Orlando residents need vehicles they can count on day in and day out, and Headquarter Honda in Clermont has the entire new Honda model lineup to get you around the The City Beautiful.
You can find the top Honda dealer near Orlando due west down FL-408, just past Johns Lake. We are proud to be your dependable full-service dealership featuring one of the best selections of new and used vehicles in the area, as well as a state-of-the-art service center. So whether you live in the city or commute from Fairview Shores, Lockhart, Edgewood or one of the many Orlando area communities, Headquarter Honda is your source for all things automotive.
To reach us from Orlando, simply:
Head onto FL-408 W, following signs for Florida's Turnpike N/Ocala
Take exit 272 for Clermont
Turn left onto FL-50 W/W Colonial Dr
Turn left onto Lake Blvd
Take the first right onto Jefferson St, and you'll find us just down the way at 17700 State Road 50.
Orlando Families Can Count On New Honda Models
One of the best parts about visiting Headquarter Honda for your next new car is the sheer variety of vehicles in the current Honda lineup. With everything from compact cars to pickup trucks and SUVs, Honda has something for practically every type of driver.
That's why we offer convenient resources online—including reviews and a catalog of our full inventory—and our dealership is staffed with knowledgeable sales experts who work one-on-one with you to find the right Honda for your needs.
Take a look at three of our most popular models—it's only the beginning of what we have to offer:
Honda Civic: One of the world's most famous small cars, the Civic is known for its affordability and fuel efficiency. Honda's Civic has been going strong for decades and remains an excellent second car for a family or main car for a driver looking for savings.
Honda Accord: Honda's premier sedan, the Accord carries a level of class that can compete with the luxury brands at an accessible price. With a variety of options, a spacious interior, and an impressive fuel economy, Honda's mid-size sedan is a great fit for practically any kind of driver.
Honda CR-V: The Honda CR-V gave birth to the crossover class of vehicles, and it has had little trouble coming in at the top of the pack ever since it was created. With seating for up to five that easily converts to cargo storage space, the CR-V is ideal for a family on the go.
Dependable Used Honda Cars at Low Prices
When you want a selection of used cars that gives you true variety, we hope that Headquarter Honda is your first stop. We carry used vehicles of all makes and models, and we ensure that each and every one of them is up to the strict standards of excellence we have at our dealership. Not only do you get used car savings, but you get the confidence of an auto dealer you trust.
Of course, we know that some of you may want a little extra assurance on your next used car, and we have a solution for you: the Honda Certified Pre-Owned Program. A Certified Pre-Owned (or CPO) Honda is one that has passed a strict inspection process and has earned Honda's seal of approval. That's not all, though. CPO Honda models also have the following benefits:
7-year/100,000-mile powertrain warranty: Expensive powertrain components like the transmission and drive system are protected for up to 7 years or 100,000 miles from the original in-service date.
12-month/12,000-mile basic warranty: Vehicles that have had their new car warranty lapse receive 12 months or 12,000 miles of basic warranty coverage. Vehicles still within their new car warranty period have its length extended to 4 years or 48,000 miles.
Vehicle history report: Drive with confidence knowing that you have the complete maintenance and accident history of your new CPO Honda.
Special financing rates: By choosing a CPO Honda, you become eligible for special new car financing rates on select models.
Enjoy Affordable Payment Plans with Honda
Our finance team works one-on-one with you to find the best finance package among our competitive rates and offers. Would you believe that we even frequently offer specials on our loans and leases to provide you even greater savings? That's just part of our financing commitment to you.
If you are looking toward a new car but want to have a lower monthly payment, we encourage you to take advantage of Honda Leadership Leasing. This special program helps protect you and your investment with an Excess Wear and Use Waiver to let you focus on enjoying your Honda and Guaranteed Asset Protection (GAP) coverage in the event of an accident.
Whether you choose to finance or lease your next vehicle is up to you, but there are benefits to both methods.
Benefits of Leasing: Leasing typically results in a lower monthly payment, as you only pay for the wear and tear on the vehicle. When you lease a new Honda, you are under no obligation to purchase it once your agreement is up, letting you enjoy a new car every few years.
Benefits of Financing: When you finance to own your vehicle, you are paying towards acquiring full ownership of the car. As a result, you will not have limits on your mileage and customization when you finance.
Certified Honda Maintenance and Repair
As your full-service auto dealer, we have a state-of-the-art service center on-site, staffed with Honda trained and certified technicians that know your vehicle inside and out. We use only OEM Honda parts in our service and repair jobs, and offer competitive rates on all of our auto work. We even feature frequently updated service specials that let you save on necessary auto care.
Many drivers know how often they need to have their oil changed, but what about other routine maintenance needs? We have a quick guide to give you an idea, but if you're ever in doubt, just ask one of our service technicians!
Oil Changes: A car's oil is its lifeblood, and without fresh oil, it's only a matter of time before your car grinds to a halt. Regular oil changes keep your engine running smoothly and help to improve fuel economy. Be sure to change your oil every 3,000 miles or so. If you're unsure, check your manual.
Tire Rotations: While your tires rotate on their axle as you drive, they wear unevenly. Your tires need to have their location on the vehicle rotated about every 5,000 miles or so to ensure even wear and to get the most out of your tires.
Transmission Fluid Changes: The transmission fluid is to your transmission what oil is to your engine, except it is even more important. Transmission fluid helps keep the transmission lubricated and reduce stress from wear and heat. Heavy use drivers, those that spend most of their time in the city, are encouraged to change their transmission fluid every 15,000 miles or so.
Brake Pad Replacements: The life of your brake pads can vary greatly depending on how you drive, but if you are frequently in stop-and-go traffic, you'll see your brake pads wear away more quickly. If you don't change them, they will eventually wear down and cause significant damage to your rotors before risking your safety. Inspect your brake pads at least every 20,000 miles.
Things To Do in Orlando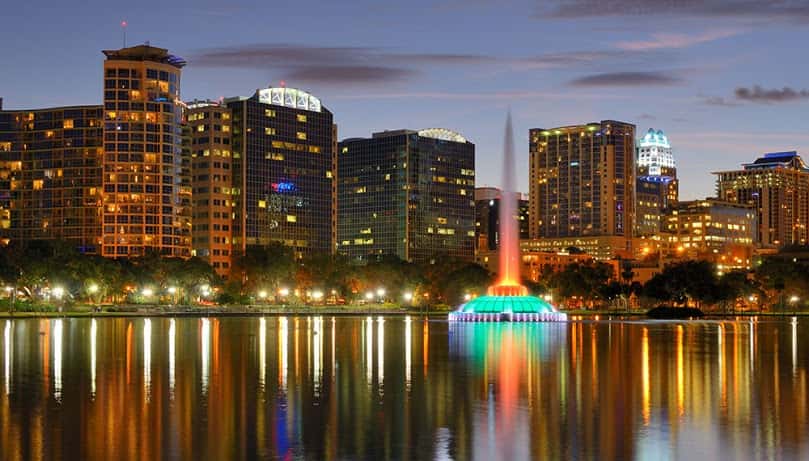 We are proud to serve the people of Orlando and believe that the city has truly earned its nickname as The City Beautiful. While Orlando is a favorite vacation destination for much of the United States, we love the arts, culture, food, and music that make Orlando one of the best cities to live in. Working and living so close to Orlando lets us experience the city firsthand.
Here are some of our favorite things to do in Orlando:
Orlando Museum of Art: Host of regular events and adventures into art, the OMA makes for a great day trip for art lovers of all ages.
The Florida Mall: Who doesn't love a nice day of shopping and splurging? Sometimes you simply have to treat yourself, and we have yet to find a better place to do that than The Florida Mall.
Poseidon Spa: Some days, you just need some help relaxing, and the staff at the Poseidon Spa is trained in that very delicate art of making you forget your troubles for a time.
Stop By the Premier Honda Dealer Near Orlando Today!
Whether you are looking for your next new or used car or simply need an oil change from a dealership you know and trust, we are here for you at Headquarter Honda. We have a long history of serving Orlando drivers, and just as we think the short trip down FL-408 is worth it to visit your fair city, we think you'll agree that it's worth it to make the trip to Clermont for all of your auto needs.
Why not make an adventure of it? Drop the windows down, cruise down the highway, and explore some of the many lakes around Florida's Turnpike on the way to or from our dealership? They look even better from behind the wheel of a new Honda.