Community Involvement
Headquarter Honda Makes Community Involvement a Top Priority
Headquarter Honda is proud to reside in scenic Clermont, and is actively involved in the Orlando community. Giving back to our community is a priority of ours, so whenever possible we like to support local charities, raise awareness for important causes, and invite our neighbors over for some fun events!
Here are a few of the ways we have recently been involved in the community!


Headquarter Honda is Hosting the East Ridge Girls' Cross Country Car Wash
The staff at Headquarter Honda is gearing up for a fun community event—and you won't want to miss out. Join us for an afternoon car wash benefitting East Ridge Girls' Cross Country!
This event will run from 12 p.m. to 4 p.m., and has been bumped to Saturday, October 10th so as not to interfere with Homecoming. Tickets will be pre-sold the weekend prior, so don't miss your chance for a detailed car wash by hand. Contact Marshall Jungreis (Youngrice) at 352-847-8743 with questions about the event, and to purchase tickets.
For your meticulous car wash service, the trusty professionals at HQH will take the reins after the kids pre-wash your vehicle. A shammy dry-off will leave your vehicle sparkling clean. Be on the lookout for students holding signs as you arrive so we can direct you to the right place.
So come on out to Headquarter Honda for an event that benefits you and the students—we look forward to seeing you there!

Headquarter Honda Sponsors Business After Hours Event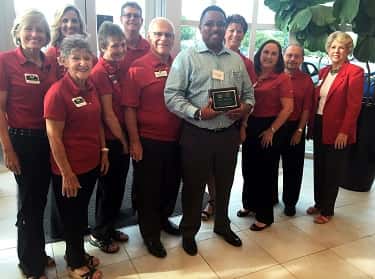 Headquarter Honda is a proud supporter of local businesses and organizations, which is why we were happy to sponsor the West Orange Chamber of Commerce (WOCC) Business After Hours Facilitating Opportunity this July. The WOCC organizes these events monthly, to help connect business leaders and innovators in the community in a fun, relaxed environment. Chamber members were treated to an array of tasty appetizers and beverages, all while mingling amongst the latest Honda lineup. Along with series sponsor West Oaks Mall, the Business After Hours was a huge success, and Headquarter Honda was thrilled to be part of this ongoing entrepreneurial series.

Headquarter Honda Tees Up to Benefit Boys & Girls Club of Lake County – South Lake Unit
On May 22, Headquarter Honda was a proud participating sponsor in the South Lake County Rotary Club 12th Annual Hole-in-One Golf Tournament. Held at the Sanctuary Ridge Golf Course in Clermont, this charity event benefitted the South Lake Unit of the Boys & Girls Club. Participants enjoyed a relaxing day on the greens, all while supporting a local institution.
Just like Headquarter Honda, the South Lake County Rotary Club is dedicated to creating lasting community service projects. Last year, $8,100 was raised for the local youth at the tournament. The Boys & Girls Club aims to provide safe and educational environments for kids ages 6-18 to learn, play, and grow. Their after-school and summer programming enriches the lives of Florida children, and Headquarter Honda was thrilled to help raise funds for their impactful programs. We are committed to bettering the Orlando area in any way we can, and fun events such as these are our favorite ways to do so!

Headquarter Honda Gears Up to Host Job Shadowing Event
At Headquarter Honda, we are always looking for ways to get involved in our community. On Wednesday, April 15 we will be hosting nearly 100 Orange County students for an interactive job shadowing event around our facility. As the first Certified LEED Platinum dealership in Florida, we will be demonstrating how we conserve water, utilize post-consumer materials, and how we generate much of our own power from solar panels. We will be giving tours of our rooftop garden, water harvesting techniques, and hybrid car inventory.
For more on this upcoming opportunity, contact our team at 800-497-2294, and stay tuned for a recap of this exciting event.

Headquarter Honda Raises Money for Sisters4Hope and the Susan G. Komen Foundation
It can be tough knowing someone who is dealing with breast cancer but Headquarter Honda is working hard to support Sisters4Hope, a local breast cancer charity organization. We recently worked hard to raise over $1,500 to support these girls, who sell comfortable seat belt pads to raise awareness for and support women with breast cancer.
The Sisters4Hope passed our donation along to the Central Florida affiliate of the Susan G. Komen foundation, so that it could be used to help women in need in the area. We are proud to support this charity and the great work they do to raise awareness for breast cancer research support help make life a little bit easier for families going through the breast cancer treatment process.

Toys for Tots Works with Headquarter Honda
It breaks our hearts to know that there are children in our community who go without during the holiday season, but every year we try to change that by partnering with Toys for Tots to ensure that the less fortunate get a new toy for Christmas. In 2014, Headquarter Honda served as a collection center and drop-off point for new and unwrapped toys for kids all over the Osceola, Seminole, and Orange counties.After collecting toys from October through December, they were distributed to children age 15 and under by the U.S. Marine Corps Reserve. We're proud to say that we were able to fill up an entire Honda Odyssey with toys to be delivered to the less fortunate, giving kids a message of hope during tough times. And we can't wait to do it again next year.